Barato Portable Pop Up Mongolia Tent Mosquito Net
Descripción del producto
: YMPOPT Grupo de edad: Todas las edades Forma: Mongolia Tent Color: Blanco Tela Tejido: Deformación Tricotada Dimensional Estabilidad: Contracción Menos de 5% Botton: Sin Botton Transporte Paquete: Bolso no tejido Origen: China Especificaciones: Hogar, Militar, Al aire libre, Viajes, Camping Puerta: Puerta doble Material: Poliester 100% Resistencia a la ráfaga: 250kpa Proess especial: Puede ser tratado insecticida por solicitud del cliente Marca registrada: YAHE Especificación: TAMAÑO COMPLETO POP-UP Mosquito Net * Una mosquitera de alta calidad, bien diseñada y autoportante.
* La Mosqutio Net de la velocidad es perfecta para el viajero, el campista o el hogar que requiere la protección del insecto.
| | |
| --- | --- |
| Material: | 100% polyester |
| Denier: | 50D |
| Weight: | 30g/m2 |
| Color: | White fabric with purple edage (other colors available on request)  |
| Zipper Door: | 2 doors |
| Bottom: | full bottom / half bottom / without bottom |
| Especial proess:  | Can be treated insecticide by customer request |
| Size: | (L*W*H)cm S:200*100*160cm  M:200*150*160cm  L:200*180*160c |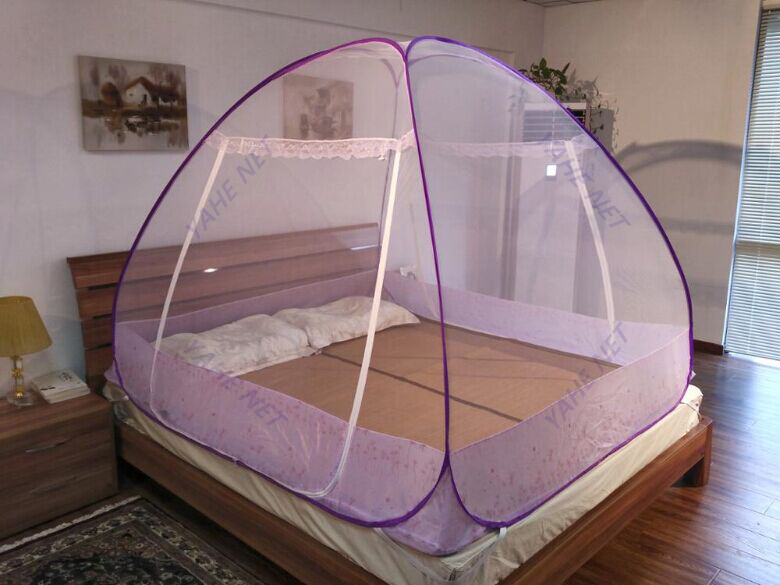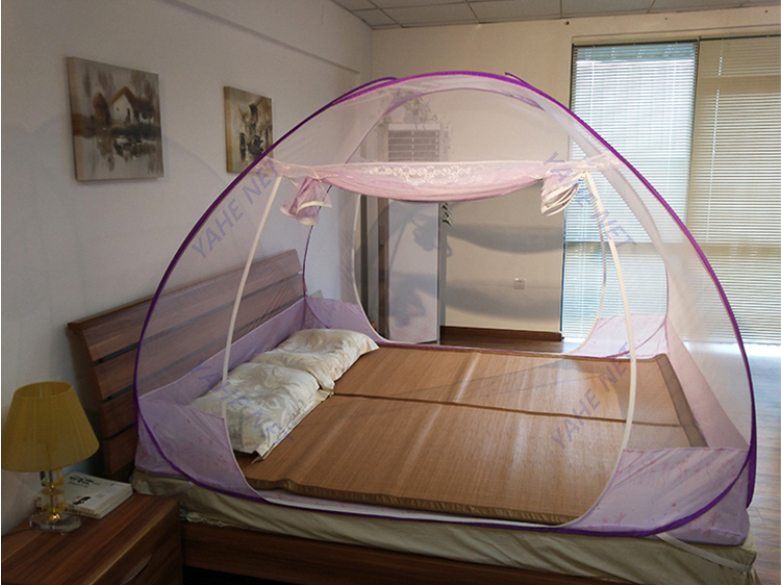 • Si viaja en áreas tropicales donde prevalece la malaria, una mosquitera es la mejor protección contra las picaduras de mosquitos,
Malaria y otras enfermedades transmitidas por mosquitos.
• El mosquitero Speed ​​es un estilo autoportante que es ideal para situaciones en las que no hay nada para suspender la red.
Se puede utilizar para acampar y también en interiores en hoteles y albergues.
• La mosquitería autoportante Speed ​​se puede montar y embalar en segundos y es ajustable tanto para
camas dobles.

Características • Se tarda sólo unos segundos en erigirse y empacar.
• Excelente calidad de costura y resistencia.
• Estas redes tienen un suelo removible y, como tal, son adecuadas para el uso en la cama.
• Malla extra suave pero fuerte que ocupa menos espacio cuando está empacada.
• Alambre de acero para fácil apertura, embalaje y almacenamiento compacto.
Embalaje y entrega

Cada mercancía embalada individualmente en la bolsa no tejida, enviada en cartones.
Empresa Industrial y Comercial

Fujian Yamei Industria y Comercio Co., LTD. Fue fundada en 2002. La oficina central se encuentra en la ciudad de Fuzhou,
Provincia de Fujian, China. El área de la fábrica es 2000M2 y la salida mensual es 300.000 pcs mosquito net.Main productos:
1. LONGITUDES INSECTICIDAS TRATADAS MOSQUTIO NETS (LLINS) 2. MOSQUITOS NETO / POP-UP MOSQUTIO NETTA. MOSQUTIO NETO NETO / TRAVEL MOSQUTIO NET4.UMBRELLA TABLA DE MESA / DECORATIVO MOSQUITO NET5.MOSQUTIO NET PARA BEBÉS Y CHILDREN6.DIY VELCRO WINDOW SCREEN / DIY CORTINA DE PUERTA MAGNÉTICA
Certificaciones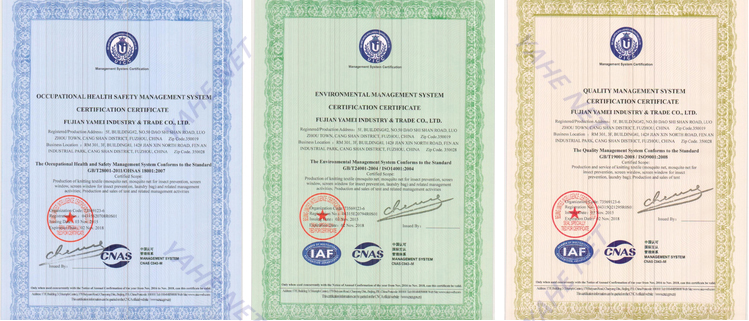 Grupos de Producto : Mosquitero pop-up